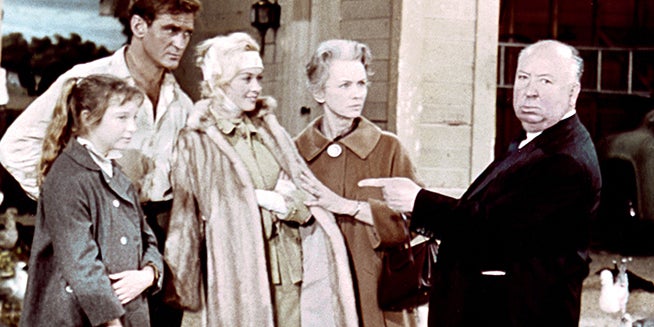 No one ever said that being an actor was easy. You're constantly facing rejection, and your whole career can crumble in less than a minute. But, sometimes, even when you've got steady work, even when you're on the set of a big budget movie with top tier talent, things can be difficult. Especially if you're a woman. Directors can be verbally, or even physically, abusive, and the things you get asked to do can be extremely degrading. That is why I've decided to create a list for all you self-respecting actresses out there of the top directors you do NOT want to work with. Now, just to be clear, these are not being placed in any kind of order, and I'm not trying to say that these men are untalented, or that your careers wouldn't be helped by working with them. I'm saying, if you want to be treated with respect on set, if you want to play complex, multi-faceted individuals who aren't just victims or eye candy, these are not the people to audition for.
Michael Bay.
Transformers, The Rock, Pearl Harbor.
One of the most financially successful directors of all time, Michael Bay has made enemies with many, many groups over the years. These include film critics, the NAACP, and, of course, women. From the beginning of his career, Bay has been trashed for objectifying and degrading members of the fairer sex, and for good reason. Known for including unnecessarily long shots of women's breasts, backsides and legs in his movies, Bay also makes a habit of mocking those who aren't physically perfect, as he does in Pain and Gain and the Transformers film series. He's even worse when it comes to representing women of color, who are often reduced to racial stereotypes. And the female characters in question are either dumb sluts, like Bar Paly in Pain and Gain, weepy, needy girlfriends, like Kate Beckinsale in Pearl Harbor, or eye candy, like Megan Fox in the Transformers film series. Bay is also known to be aggressive and uncompromising, being rude to both cast and crew members. A friend of mine actually worked as a PA on his film Transformers: Dark Of The Moon, and told me stories about how mean he was. Bottom line is, Bay is not a good director to work with if you're a woman. If you're attractive, he'll objectify you. If you're not white, he'll turn you into a racial cliche. And if you're just a crew member, he'll shout at, and bully you.
Eli Roth.
Hostel, Cabin Fever, Knock, Knock.
Perhaps best known for playing "The Bear Jew" in Quentin Tarantino's Inglorious Bastards, writer/director Eli Roth is widely credited with creating the "gorno" or "torture porn" sub genre of horror. But beyond simply spraying blood across the frames, Eli Roth is well-known for reducing women to their bodies. Seriously. All his films, Hostel, Cabin Fever, Knock, Knock, The Green Inferno, include sex and nudity, and the women getting naked are never really given any personality. Well, that's not true. Most of the time, as in Hostel and Knock, Knock, the women turn out to be evil psychopaths who want to do harm to the male heroes. And if they aren't that, they usually wind up being incredibly shallow, as in Hostel, where the only good female character decides she'd rather die than go in living disfigured. Roth might be the future of horror to some, but to women, he's an absolute nightmare.
Takashi Miike.
Audition, Ichi The Killer, 13 Assassins.
With over 90 film and TV credits to his name, Takashi Miike has established himself as one of Japan's most prolific directors. As well as one of its most controversial. For while Miike has made movies in a variety of genres, including family films, The Great Yokai War, road movies, The Bird People in China, and musicals, The Happiness of the Katakuris, he is best known for directing extremely violent, extremely bizarre horror and crime films. Pictures like Audition, Ichi The Killer, Visitor Q, and his black society trilogy, Shinjuku Triad Society, Rainy Dog, and Ley Lines, are infamous for including shocking scenes of high impact violence and sexual perversion. Rape, torture, necrophilia, slicing people in half from head to groin, these are but a few of the many cruelties Mike has show off in his work. And while he's not above having men get maned and skewered, Miike's bloody gaze does seem hyper focused on women. His film Ichi The Killer, for instance, begins with a prostitute getting violently beaten and raped. And this is not the only film of his to start in such a way. Ley Lines, which, for the most part, is pretty tame, includes several scenes, which don't contribute to the movie's overall narrative, that show the film's female lead getting beaten by her pimp, beaten by her customers, and being tied up and tortured in a weird, non consensual BDSM scenario. Add to this the fact that almost all his female characters are either prostitutes or strippers, and the fact that one of his most famous movies, Audition, is all about sexist men holding fake auditions to find girls to bang, and you've got a laundry list of reasons why self-respecting actresses shouldn't work with him.
Lars Von Trier.
Nymphomaniac, Melancholia, Antichrist.
A founding member of the Dogma 95 movement, Danish filmmaker Lars Von Trier has seen more than his fair share of criticism over the years. For while many have found his movies' examinations of depression, love, and sex both deep and refreshing, many more have taken issue with these pictures misogynistic content. Many of his early films, The Element of Crime, Europa, are about idealistic men being brought down by deceitful, fatal women, while several of his later pictures, Breaking The Waves, Dogville, Nymphomaniac, include very graphic, very violent rape scenes. And that's not even getting into the general violence towards women his films exhibit, such as one scene in antichrist where the female lead cuts off her clitoris. There's even a scene in this same movie where the character looks straight at the camera and says, "all women are evil." Yikes. And as if this weren't bad enough, Von Trier is notorious for mistreating his leading ladies, most notably Bjork , who starred in his movie Dancer in the Dark, and who was so upset by him that she wouldn't speak to him for weeks. If that doesn't convince you to not work with him, I don't know what will
.
Takashi Ishii.
Gonin, Freeze Me, Hello, My Dolly Girlfriend.
If you've never heard of this notorious director and manga artist before, that's hardly surprising. He's not nearly as successful as someone like Michael Bay, nowhere close to being as acclaimed as someone like Lars Von Trier, or even half as prolific, and varied in his work, as someone like Takeshi Miike. Why then am I including him on this list? Simple. Literally all his films include the rape, or repeated rape, of a woman. Let that knowledge sink in. Every single one of his films–several of which he also wrote–have rape scenes in them. Sometimes multiple rape scenes. He actually created a manga series, which was later adapted into a movie franchise, called Angel Guts, which is literally just about rape. This man shouldn't be making movies. He should be in prison. Because it's bad enough for him to be including rape in films at all, but to add insult to injury , he often shows the women enjoying the rape, and even falling in love with their rapists, like in his movie Original Sin. There's also a ton of creepy, downright uncomfortable stuff in his films, like his movie Hello, My Dolly Girlfriend. It's about this office rat who gets fired from his job, and so he assaults a stripper, insults a lesbian couple, who chase him into a nearby clothing store, where, after he witnesses them get raped and murdered by some criminals hiding behind the clothes racks, he finds and molests a manikin. This whole film is beyond exploitative. It's beyond demeaning. If you have any respect for yourself as an artist, avoid this man like the plague.
Abdellatif Kechiche.
Blue Is The Warmest Color.
Much like Lars Von Trier, French director Abdelatif Kechiche has garnered great acclaim for his cinematic explorations of love and loss. And also like Von Trier, he has attracted a fair bit of criticism for his mistreatment of cast and crew members, and his overall representation of women. Several technicians on his 2013 film Blue Is The Warmest Color accused him of harassment, unpaid overtime and violations of labour laws. Likewise, the two main actresses, Léa Seydoux and Adèle Exarchopoulos, also complained about Kechiche's behavior during the shooting. None of this was helped by the fact that, apparently, in one interview about the film, Kechiche said he filmed the actresses "like they were statues." Ooh. Never a good sentence to utter. Kechiche might be talented, and you might win awards if you work with him, but all the awards in the world can't make up for unpaid overtime and sexual harassment, both of which you're bound to encounter on his films.